Book now
Feed your body and mind
Taste, tradition and culture, pleasures of life.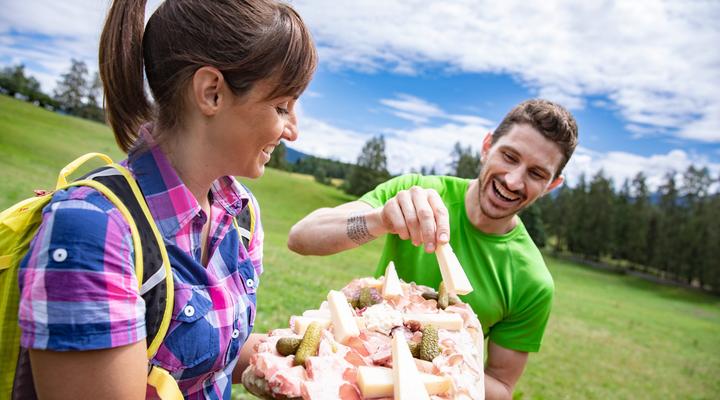 Typical products you can taste in Fiemme are the result of centuries-old traditions: speck and fresh or cured meats, cheese from the dairies of the valley, game, mushrooms, honey, jams, apple strudel, small fruits . All paired with the excellent Birra di Fiemme or the wines and spirits of the nearby Cembrani Doc cellars. Many producers open their doors to visitors interested in discovering secrets of the processing of products, or even to try their hand at some tasteful laboratory!
Our Hotel Bellavista is very attentive to the world of TASTE: discover all our services!
Not only food for the body but also for the mind: in fact, there are many sites of great cultural relevance that you can visit in Fiemme, bringing back to ancient times but with a tradition that still lives today.
One above all is the Palazzo della Magnifica Comunità di Fiemme which majestically stands in the center of Cavalese, as symbol of a community that has been managing its forest heritage with care for more than 1000 years. The fourteenth-century Palace was built in the Middle Ages by the Prince-Bishops of Trento as the seat of their great Vicars and summer residence. It currently houses the art gallery, the museum and the archive of manuscripts, statutes and writings.
The culture of music with our famous resonant spruce trees is central part of our history, discover all HERE
The Contemporary Art Center in Cavalese, the Geological Museum of the Dolomites in Predazzo, the Tesero Observatory and Planetarium, the numerous ethnographic museums, are just a few ideas to enjoy your holiday at its fullest, and with FiemmE-Motion many entrances will be free or at a discounted.
---